The Glenn Webster Page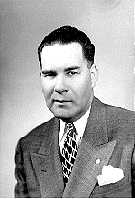 The Photo Album of an NBC-Chicago Engineer
Curator's note: Glenn Webster, the subject of this page, passed away on January 1st, 2007 at the age of 100 in Rogers, Arkansas. You can read his obituary below (thanks to Bud Ream for providing it to me).
About Glenn Webster and his photos: Glenn Webster had the good fortune to work as an NBC engineer in Chicago's Merchandise Mart studios between 1931 and 1945---which means he was on hand during the most exciting years of radio's 'golden age' at one of the medium's most active facilities. Moreover, Glenn had the even better fortune to be assigned to two of radio's most memorable shows, Amos 'n' Andy and Vic and Sade. During the war years, Glenn held down the fort in Master Control---an installation judged so critical to the nation's well-being that it was placed under armed guard (though, on account of the endemic manpower shortage, the guards tended to be octogenarians with a tendency to pass away on the job).

From time to time, Glenn took his camera to work---always to good advantage, as the photos below illustrate.

In 1945 Glenn left NBC and went to work for General Electric, selling broadcast equipment---which shortly came to include television transmitters.

In retirement, Glenn was known to fellow amateur radio operators as W5VIX. My many thanks to Glenn for sharing his photos.
| | |
| --- | --- |
| Right: Radio's first megastars (Freeman Gosden and Charles Correll, better known as "Amos 'n' Andy") in profile, paying homage to the man at the controls---their engineer, Glenn Webster. The photo, shot by a professional, was taken in studio F in the mid-1930's. | |
| | |
| --- | --- |
| | Left: From an undated tear sheet (but probably the late 1930's). The caption reads: "Misery Loves company in the Vic and Sade Troupe. Bernardine Flynn (Sade) has her arm in a cast. Art Van Harvey (Vic) has a sprained ankle, and Glenn Webster, the control room engineer, is limping about with a broken ankle. The only member of the cast who is entirely sound of body is Billy Idelson, who plays Rush. He and announcer Bob Brown and author Paul Rhymer are knocking on wood. Miss Flynn's arm was put in the cast when a two-year-old wrist fracture began to bother her. Van Harvey fell into a darkened stage platform during a personal appearance in Indiana and engineer Webster slipped. Vic and Sade, sponsored by Proctor and Gamble, makers of Crisco, is broadcast Monday through Friday over the NBC-Blue Network at 11:30 a.m., EST, and over the NBC-Red Network at 3:30 p.m., EST." |
| | |
| --- | --- |
| | Left: In the mid 1930's, Glenn's camera captured a few stylishly attired NBC folks taking a break on the Merchandise Mart roof adjacent to the 19th floor studios. On the left is a young Hal Peary (the future "Great Gildersleeve"). The women are Loretta Boynton and Betty Lou Gerson. |
| | |
| --- | --- |
| Right: Ransom Sherman, photographed by Glenn in 1938 when he was hosting "Club Matinee" in studio A. "Club Matinee", an NBC-Blue program, was designed to be an afternoon version of "The Breakfast Club." Working as a writer on the show at this point was a young man named Garrison Morfit---who later hosted the show , changing his name to Gary Moore. | |
| | |
| --- | --- |
| | Left: Glenn Webster at the mixing panel in the control room of studio E in the mid-1930's. |
| | |
| --- | --- |
| Right: Closeup of the standard NBC-Chicago audio control board. Identical mixers were installed in studios A, B, C, D, E and F. The faders controlled four microphones and the master output. Additional microphones could be used only by removing one from a given channel and patching in another via the jack panels installed in each studio. Engineers were generally cautioned against this 'hot switching' technique. The superb balance that was NBC-Chicago's trademark was due to careful microphone placement, not the sheer number of mikes. | |
| | |
| --- | --- |
| | Left: Engineers Royston and Clark near the Master Control panel on January 1, 1933. Notice overhead a portion of the illuminated map of the NBC networks. Changes in the network configurations punched up on the board were reflected in the colored lights on the map. |
| | |
| --- | --- |
| Right: Announcer Bob Brown in studio F control. Bob's show included "Vic and Sade" and "The Adventures of Mary Marlin". | |
| | |
| --- | --- |
| | Left: "Happy Jack" Turner at the keyboard in studio F in the mid-1930's. Does anybody remember anything about "Happy Jack"? |
| | |
| --- | --- |
| Right: Studio A in 1940, set up for the "Breakfast Club" | |
| | |
| --- | --- |
| | Left: Glenn Webster in studio D in 1938 checking the audio balance for the "Lives in Danger" broadcast. |
| | |
| --- | --- |
| Right: Glenn Webster, District Sales Manager for General Electric, stands as Burridge Butler, President of WLS and Prairie Farmer, signs the contract for the purchase of WLS's new 50,000 watt GE AM transmitter (mid-1950's) | |
| | |
| --- | --- |
| | Left: Glenn Webster holds the contract for the purchase of WTTW's first transmitter. On the left is John Taylor, WTTW station manager. To the right of Glenn are Edward Ryerson, Board Chairman of the Chicago Educational Television Association, and Duane Weise, chief engineer. |
Here is Glenn Webster's obituary as it appeared in the Benton County (Arkansas) Record:

Glenn Everett Webster, 99, of Rogers, Ark., died Monday, Jan. 1, 2007, at Innisfree Nursing Center in Rogers. He was born June 16, 1907, in Tescott, Kan., to William Henry Webster and Grace M. Barber Webster. He was raised and educated in Salina, Kan. He earned a bachelor's degree from Kansas State University in Manhattan in 1929.

He took a position as chief engineer for NBC Radio in Chicago, Ill. When television came into existence, he was employed with the General Electric Corp. as a sales representative for TV broadcasting equipment.

He was a member of the Institute of Electronic and Electrical Engineers, the Quarter Century Wireless Association, the Northwest Arkansas Amateur Radio Club and the American Radio Relay League.

He attended the First United Methodist Church of Rogers. He was preceded in death by his wife, Maxine Webster, in 1991; and a daughter, Sandra, in 2005. Survivors include a daughter and son-in-law, Joyce Helm and Roger Helm of Tempe, Ariz.; and a grandson, Steve Helm and his wife Serri Helm of Leawood, Kan. No services are planned. Arrangements are by Callison-Lough Funeral Home of Rogers.
Comments or suggestions? click here to send them to Rich Samuels
Created by Rich Samuels (e-mail to rich@richsamuels.com)