October 1st, 1989:


Streaming Video the First WMAQ-TV News Broadcast from the NBC Tower Studios
Curator's note: Below you can access streaming video of highlights from WMAQ-TV's first news broadcast from its new studios in the NBC Tower. You might find it interesting to compare this broadcast with the previous night's broadcast (September 30th, 1989) from the Merchandise Mart studios, and with a 10pm newscast anchored by Floyd Kalber on February 23rd, 1967.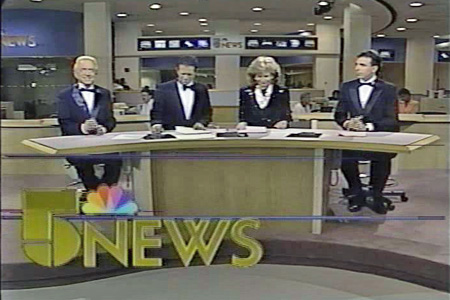 Above (left to right): Weatherman John Coleman, Co-anchor Ron Magers and sportscaster Mark Giangreco.
| | |
| --- | --- |
| Segment 1: Anchors Ron Magers and Carol Marin present the top stories of the day, including the completion of the Dan Ryan Expressway construction project (featuring a soundbite with then Illinois Governor Jim Thompson; the ongoing disintegration of the Iron Curtain; and the celebration of the 40th birthday of the People's Republic of China. | |
| | |
| --- | --- |
| Segment 2: Reporter Rich Samuels chronicles the final hours of WMAQ-TV's move from the Merchandise Mart to the NBC Tower. Featured in Rich's tape piece are many behind-the-scenes news, production and engineering personnel. | |
| | |
| --- | --- |
| Segment 3: A tour through WMAQ-TV's new facilities in the NBC Tower, conducted by weatherman John Coleman. Featured are the robotic cameras, a great step forward. | |
| | |
| --- | --- |
| Segment 4: Forecaster John John Coleman predicts the weather for the following day and week. (Coleman is presently weatherman for KUSI in San Diego, CA). | |
| | |
| --- | --- |
| Segment 5: Political Editor Dick Kay delivers his weekly commentator on Richard Phalen, candidate for president of the Cook County Board of Commissioners. Dick was not told that black tie was the mandatory dress of the evening. He therefore borrowed the jacket of Art Norman's tuxedo. (Click here for more about Dick Kay). | |
| | |
| --- | --- |
| Segment 6: The highlight of sports anchor Mark Giangreco's presentation is clearly the victory of the division champion Chicago Cubs in Saint Louis. | |
| | |
| --- | --- |
| Segment 7: Closing credits roll over scenes that chronicle the NBC Tower's construction. Not to be missed is the first shot: Chicago Mayor Harold Washington detonates a device at the ground-breaking (November, 1986) that causes many balloons to flow skyward. | |
Comments or suggestions? click here to send them to Rich Samuels

Created by Rich Samuels (e-mail to rich@richsamuels.com)